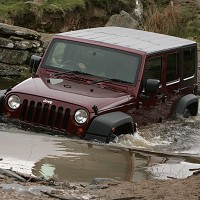 The four-door Jeep Wrangler Unlimited has been crowned best 4x4 of the year in the Hardcore class by 4x4 Magazine.
A panel of expert judges were wowed by the vehicle's all-round package comprising off-road capability, style, equipment and value for money.
The US-built machine beat of stiff competition from the likes of the Land Rover Defender for the prize in this year's contest at the long-running publication.
Nigel Fryatt, the magazine's editor, said there was little to choose between the Wrangler and the Land Rover Defender off-road.
"But if you had to live with either on a daily basis, in all-weathers, all traffic conditions, on and off-road, then there's only one choice. It has to be the Jeep," he added.
Mr Fryatt revealed that although this year's competition was as hard-fought as ever the Jeep Wrangler Unlimited was a unanimous winner in the Hardcore category.
Motorists looking to navigate tricky routes - especially combining on and off-road terrain in adverse weather conditions - might want to access an onlinejourney planner before setting out to help plan for a trouble-free journey.
Copyright © Press Association 2012