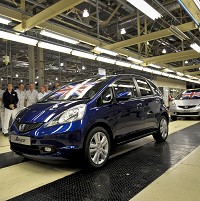 If you're looking for a reliable new car then the British-built Honda Jazz should be on your list for a test drive, if a new poll is to be believed.
This year's Auto Express Driver Power survey of more than 50,000 motorists awarded the supermini 98% for reliability - 1.2% more than in last year's poll.
The score takes the small but spacious city car to the top of the tree for reliability, from third place in 2013.
The respondents were asked to report on how practical their cars are, how they perform in general and how they respond to the road, as well as their overall reliability. The Jazz was one of 150 new and used cars involved in the research.
Honda UK's managing director Philip Crossman is delighted with the Auto Express accolade and said it just goes to show the quality of the cars the company makes in this country. He said the Jazz was already renowned for its reliability and this award has underlined it.
The Auto Express Driver Power survey is widely recognised as the most important measure of customer satisfaction and reliability in the motor industry
Copyright Press Association 2014