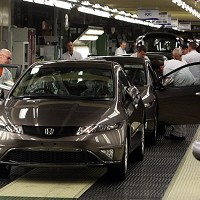 Japanese vehicles have taken gold, silver and bronze medals in the competition for the most reliable cars, a study shows.
Honda, Toyota and Lexus, in that order, took the top three places in a reliability table drawn up by What Car?
In a survey of cars aged between three and 10 years, Hondas were found to only have a 10% chance of breaking down in a year's time.
Toyota's rate was 17% and Lexus was 18%, with Japanese car brands taking the lion's share of the top 10 most reliable cars. In stark contrast, Land Rover ranked 36 for reliability with a breakdown rate of 71%.
Luxury autos were not immune to breaking down, with Jaguar achieving a 43% breakdown rate and Mercedes-Benz a 45% score, placing them near the table's bottom.
Chrysler was the only non-Far East manufacturer to make the top 10 list.
Regardless of the car they drive, motorists should consider carbreakdown cover .
"Reliability is so important to motorists, especially when times are tough. Japanese car makers really do deliver on reliability and Honda is exceptionally good at this", said What Car editor in chief Chas Hallett, adding:
"What will be surprising to many is the fact that several of the more desirable brands did not fare so well regarding reliability, and the cost of their repairs are high. They need to do better."
Copyright Press Association 2012