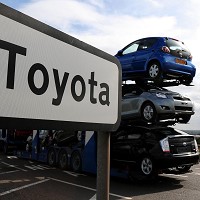 An air bag problem is forcing Honda, Nissan and Toyota to recall over two million vehicles around the world.
The crux of the problem is in the air bag inflator located where the passenger sits. The mechanism can explode, projecting plastic bits.
No-one has reported an injury as a result of the problem, however.
The Japanese company Takata makes the air bags that are behind the recall. Takata also manufactures air bags for other car producers outside of Japan, according to Akiko Watanabe, the firm's spokesperson.
A list of the vehicles being recalled includes 1.7 million Toyotas - 320,000 in Japan, 490,000 in Europe and 580,000 in North America.
Toyota's Corolla, Lexus SC and Tundra models manufactured from November 2000 to March 2004 are affected by the recall.
Honda is also recalling a huge number of vehicles - 1.1 million, including 64,000 in Europe, 270,000 in Japan and 680,000 in North America. The affected models include the Civil and Odyssey.
Copyright Press Association 2013