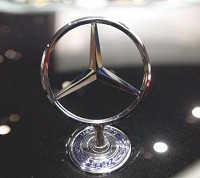 A Mercedes-Benz hybrid is to become the first foreign-made electric-petrol car to hit Japanese roads.
The German manufacturer has released the S-Class hybrid sedan, becoming the first foreign carmaker to enter Japan's hybrid car market.
The S-Class sedan, which has been available in Europe since June, will cost 14.05 million yen (£92,000).
The luxury sedan boasts a 3.5 litre petrol engine and a compact electric motor. The motor is powered by lithium ion batteries which are lighter than the nickel metal hydride batteries used in most hybrid cars.
Touted to be 30% more fuel efficient than the previous model, the luxury hybrid is the first overseas-made car to benefit from the Japanese government's tax breaks for fuel-efficient vehicles.
The hybrid car market in Japan is currently ruled by Toyota's Prius and Honda's Insight but the entrance of Mercedes-Benz and the planned launch of a hybrid car by German rival BMW indicates growing competition among manufacturers.
Copyright © Press Association 2009