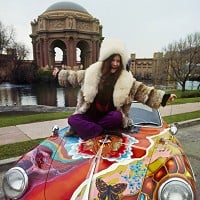 A psychedelic Porsche once belonging to Janis Joplin will go under the hammer later this year.
But soul and blues fans will need over 400,000 dollars (£260,000) if they're thinking of buying a car so steeped in history.
The singing legend helped to design the classic 356C 1600 Cabriolet herself and RM Sotheby's is putting it up for sale at a New York auction on December 10.
The distinctive colour scheme made the Porsche easily recognisable. Joplin drove it every day around the streets of San Francisco and to the recording studios in Los Angeles.
The star revamped its look after deciding that its original pearl white colour was too simplistic. That's when she called in her roadie and friend Dave Richards to tailor the car to her specific whims.
It meant that Joplin would get no respite from her followers - with fan notes regularly being left under the motor's wipers.
The design comprises a Joplin portrait as well as pictures of jellyfish and butterflies and it is not recommended for bidders trying to stay inconspicuous.
The Porsche enjoyed a painstaking restoration project at the beginning of the 1990s. This helped return the car to exactly how it looked when Joplin first had it customised.
Joplin died in 1970, aged just 27, having played in acts such as the Kozmic Blues Band, Big Brother and the Holding Company, and the Full Tilt Boogie Band. Her hits include Cry Baby and Maybe.
The motor has remained with Joplin's relatives and was driven by Albert Grossman, her manager, for many years. He would lend the Porsche out to her friends and family.
Ian Kelleher, managing director of RM Sotheby's says that Joplin's Porsche's is indisputably among the key cars of its kind in the history of the make.
He describes it as a "fantastic" vehicle which goes beyond the social movements, pop culture and art of that period. Mr Kelleher adds that the Porsche is as "stunning" and innovative as Joplin herself.
Copyright Press Association 2015