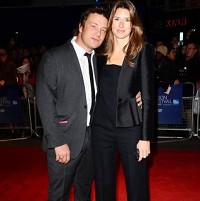 This Christmas celebrity chef Jamie Oliver rejected ordinary gift ideas like jewellery or designer labels for his wife Jools.
Instead he gave her reliable run-around a new image with a makeover inspired by the TV show Pimp My Ride.
The TV star, estimated to be worth around £150 million, took his wife's modest car and left it looking like something belonging to a boy racer.
The 37-year-old added flame stickers, switched the seats for racing-style ones and gave it a new exhaust.
But even though the modifications might be bad news for the 32-year-old's car insurance premium, it seems she was delighted with her unusual gift.
He took to Twitter to tell his friends about the present describing his wife's car as a "third hand super awful runaround car".
He claimed Jools loved her vehicle with a passion and had been over the moon with its new look.
He tweeted: "We're talking silver to black paint, roaring flames to go with the 950 cc hair dryer engine, beefy exhaust back box to make it rubble down the high street and bad boy black covers."
Copyright Press Association 2012