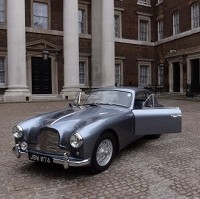 Film fans are being offered a chance to get their hands on a 60-year-old sports car that's thought to have provided the inspiration for James Bond's Aston Martin in Goldfinger.
The Aston Martin DB 2/4 Mk I Vantage was owned by Philip Ingram Cunliffe-Lister, whose father, Lord Swinton - as the wartime head of MI5 and the Security Executive and an advisor to Winston Churchill - was James Bond creator Ian Fleming's boss.
And now after being discovered in Kent the car is being auctioned by Coys with bids being taken at Blenheim Palace on July 12.
Just like the car in Fleming's Goldfinger novel, the Aston Martin features concealed lockers, bumpers made from reinforced steel, two-way radio and an anti-interference ignition system.
The vehicle going under the hammer was regularly seen at the 007 novelist's next-door-neighbour's home in Kent, the property which provided the inspiration for villain Sir Hugo Drax's HQ in Moonraker.
Coys managing partner Chris Routledge said the car's discovery confirmed the link between James Bond and Aston Martin.
Copyright Press Association 2014