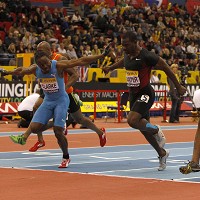 Members of Jamaica's acclaimed Olympics sprinting squad have been paying a visit to a school in London to give their backing to a road safety campaign.
Shelly-Ann Fraser Pryce, who won 100m gold at Beijing 2008, is among the athletes visiting children in Dulwich, south east London, as part of the international Zenani campaign launched in memory of former South African president Nelson Mandela's great-granddaughter.
Other stars putting in an appearance at the Alleyn's School track include Beijing 2008 gold medallist Nesta Carter and silver medallist Sherone Simpson, 400m hurdler Kaliese Spencer, javelin thrower Sunette Viljoen and triathlete Gillian Sanders.
MVP Track and Field Club president Bruce James pointed out that road crashes are preventable yet they are the number one killer of young people around the world.
"As we approach the London Olympics the world's attention is upon us. We are here in London on the world stage so we are taking this opportunity to join the Zenani campaign and to call for action to save children's lives," he added.
Car insurance customers in the capital should be keen to protect their car insurance premiums and their fellow road users this summer as London welcomes huge amounts of visitors for the Olympics.
Copyright Press Association 2012