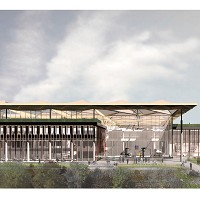 Jaguar Land Rover (JLR) is to focus its efforts on developing more technologically-advanced vehicles at a new state-of-the-art innovation and education centre in Warwick.
The company plans to link up leading academics from universities with its own research and engineering teams at the National Automotive Innovation Campus (NAIC) at the University of Warwick.
The NAIC is expected to cost around £100 million to build, with half of the money coming from JLR itself. Also contributing are Tata Motors European Technical Centre, Warwick Manufacturing Group and the UK Government's Higher Education Funding Council England.
Construction work is expected to begin next September and when built the NAIC will have around 1,000 people working in its labs, workshops and advanced powertrain facilities to design and produce the latest innovations in motoring - including safer and more reliable vehicles less susceptible to crashes and breakdowns .
The large investment is vital if the company wants to compete with its big rivals, according to Director of Research and Technology Dr Wolfgang Epple. He hopes the NAIC will help Britain intensify its automotive research capabilities in the future.
Copyright Press Association 2013