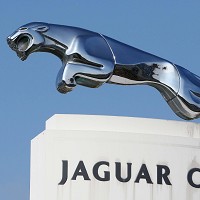 Jaguar has raced ahead to beat its competitors in a customer satisfaction survey.
Figures published in What Car? magazine show the luxury dealership scored a satisfaction rating of 86.1% from its clients.
Second in the table was Lexus, with Toyota (82.4%) coming third and Mercedes-Benz (82.3%) fourth.
Of the 27 companies included in the survey Chevrolet came last, scoring just 71.5%.
Household names Ford (77.3%), Mini (77.2%) and Vauxhall (77.1%) all finished near the foot of the table, which was carried out by American company JD Power.
The results were based on responses from nearly 15,000 customers who had been to their dealership in the last 12 months for aservice on cars bought between January 2009 and December 2010.
"The survey clearly shows that Jaguar dealers have the most friendly, helpful staff, and the best facilities and workmanship," said Chas Hallett, editor-in-chief of What Car?.
"Customer satisfaction is not just about the product, it's about the whole package, and Jaguar is delivering."
He added: "This survey also shows that lots of dealers are doing a good job but some still have a lot of work to do.
"Car buyers are spending a lot of money and should have the confidence that they will get the same standards of service as the best retail outlets on the high street."
Copyright Press Association 2012