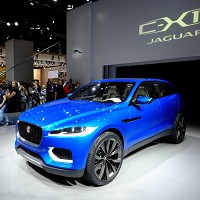 It might be a move that has Jaguar traditionalists frowning, but the luxury car maker is about to make an important market manoeuvre by introducing a 4x4 SUV to its range.
The firm's C-X17 SUV has been labelled as a 'concept' by Jaguar, but the appearance of the boldly-styled SUV is in keeping with Jaguar tradition and will come as no surprise to observers who have noted the company's recent huge sales performance.
Jaguar bosses see the SUV as plugging an important gap in the company's line-up, and the SUV will be appearing alongside the XJ and XF models in the showrooms very soon, with finance, car insurance and breakdown cover deals available.
Equally important to Jaguar, however, is the new range of aluminium cars based on a high-tech modular platform. In a move aimed at boosting production efficiencies and reducing the weight and CO2 ratings of its future cars, Jaguar has invested hugely in technology.
Although the firm is using the C-X17 as a rolling showcase for the technology, a 'baby' Jag to rival the likes of BMW's 3-Series and Audi's A4 will be the first tangible evidence of Jaguar's efforts. This could appear on the market as quickly as 2015, if industry experts are to be believed.
Copyright Press Association 2013