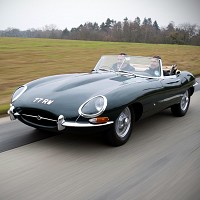 Jaguar has announced a new Heritage Driving Experience package allowing fans to 'arrive and drive' its finest cars.
Lovers of the luxury brand will be able to turn up and drive or ride in an unprecedented array of classics, as well as modern-day supercars.
Jaguar says it will provide its ever-expanding army of fans with "more than 100 years of beautiful, fast cars from pre- and post-war road racers and Le Mans champions, to later sporting saloons and grand tourers."
Drivers and passengers will be able to pick from rides in XK150s and Mark 2 saloons, and drives alongside a professional in "selected pairings" like Series 1 and Series 3 E-types.
For a little variety, Jag lovers can drive their favourite classic cars followed by their modern counterparts, like an E-type then an F-type.
Jaguar Land Rover Special Operations Managing Director, John Edwards, said: "This is the first experiential offering from our new division and is the first time in Jaguar's history that we have made a collection of vehicles of this calibre available for 'arrive and drive' experiences."
The variety of packages offered will be as wide as the variety of cars, ranging from £95 to £2,000 all day experiences, so Jaguar lovers of every kind should be able to find something to suit them.
Copyright Press Association 2014