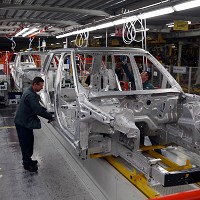 Jaguar Land Rover is on the lookout for 500 new workers at its Solihull factory in the West Midlands.
It is the first phase of the company's recruitment campaign to add 1,700 new staff to its workforce and help it produce its latest models.
The car giant is pumping £1.5 billion into its UK operation and wants to see close to 8,000 people employed in Solihull.
Jaguar Land Rover is committed to the UK car industry and it provides huge benefits to businesses in the supply chain and the UK economy as a whole, according to operations director Alan Volkaerts.
Business Minister Michael Fallon describes Jaguar Land Rover as a huge manufacturing success story and said it is taking the UK automotive sector to new heights.
He confirmed that the Government would do all it could to give companies like it to invest and grow, including helping the industry invest more than £1 billion in car-making processes.
Copyright Press Association 2014