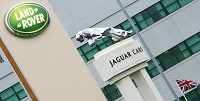 One of Jaguar Land Rover's UK plants will be closed the car giant has said in changes conveyed to staff.
A decision on whether to shut its Castle Bromwich factory in the West Midlands, which makes Jaguars, or its Solihull plant, which makes Range Rovers, will be taken next year.
The firm said the move would not result in any compulsory redundancies. It added that a decision to build a new Range Rover would create up to 800 new jobs at Halewood on Merseyside.
Owned by Indian giant Tata, it employs around 5,000 workers in Solihull, 2,000 in Castle Bromwich and 1,800 at Halewood.
Details of a new business plan were released, which Jaguar Land Rover said was designed to significantly boost its global competitiveness, encourage growth and sustained profitability, and tackle climate change challenges.
In a statement the firm said: "The plan includes decisive actions to see through the next 12-18 months as markets recover and positions the company to grow and prosper in the future.
"It includes a new and expanded range of products and environmental technology, delivered through streamlined and competitive costs and a new manufacturing strategy."
Chief executive David Smith said: "This is a plan that recognises the impact the economic collapse has had on our business, and at the same time the opportunities that lie ahead for these two great brands."
Copyright © Press Association 2009