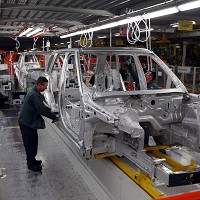 Jaguar Land Rover has reported a 17% spike in sales for September, giving it its best results for that month in the company's history.
The rise is compared with the same month last year and translates into total vehicle sales of 43,181.
The firm says it sold 34,179 Land Rover models, up 13%, and 8,462 Jaguar models, up a massive 35%.
Sales of Jaguar cars for the year so far have already exceeded the total sold during the whole of 2012.
Jaguar Land Rover sales outside of Europe increased at the sharpest rates.
In the first nine months of 2013, sales shot up by 29% in the Asia Pacific region, by 24% in China, 17% in North America and 19% in other overseas regions.
Across Europe, excluding the UK, the firm still managed a 5% increase in sales.
Spokesman Andy Goss said: "This has been another record month for Jaguar and Land Rover with significant sales growth across all major regions."
Copyright © Press Association 2013