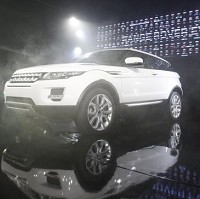 One of the world's most iconic carmakers is recalling around 1,400 vehicles - after finding possible faults in its brake and steering systems.
Jaguar Land Rover says that around 800 of its Halewood-produced Range Rover Evoque models were affected by the steering issue and being called back.
A further 600 Evoques and Freelanders were being recalled because of a brakes fault.
The manufacturer stressed that there have been no problems or accidents reported in relation to the faults and that customers owning the affected vehicles would be contacted in the next few weeks.
The voluntary safety recall has been issued so the company can inspect power-assisted steering gear mounting fixings in some Evoque models and brake callipers in selected Freelander and Evoque models.
The brakes problem has been traced to a batch of vehicles produced on June 11.
The affected batch is thought to include 235 vehicles in the UK and 340 in China.
The recall is the first to affect the Evoque, which has been a worldwide sales smash-hit since its launch last year.
Copyright © Press Association 2012