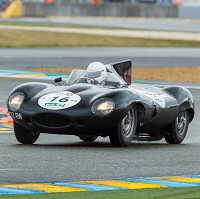 Jaguar's Lightweight E-Type is to makes its European debut at this year's Goodwood Revival.
The sell-out event will also showcase the car-maker's F-Type Project 7, with a special celebration planned for the D-Type's 60th anniversary.
On Saturday September 13, more than 20 D-Type models will take to the track for the Lavant Cup race.
But for a closer look of the legendary competition car, head to the Goodwood circuit on Friday and Sunday, where the largest collection of D-types ever assembled in one place will be gathered for a spirited parade.
Much excitement is expected for the arrival of the Lightweight E-Type, which is being built at Browns Lane, after wowing spectators first at Pebble Beach.
Across the whole Revival weekend, up to 25 Jaguars and Jaguar-powered cars will be competing on the Goodwood motor circuit, with C-Types and E-Types, plus Mark I and Mark VII saloons likely to be among the eye-catchers.
Classic car fans can also catch a glimpse of of a number of historic Jaguar models, with team support cars and pre-1966 models likely to be parked up across the road from the main circuit.
Copyright Press Association 2014