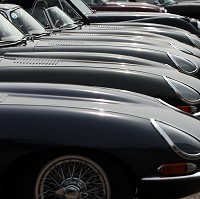 The Jaguar E-Type has been named the best British car ever by visitors to a classic car show.
The Classic & Sports Car magazine ran a competition to find the nation's favourite, drawing up a list of 10 nominations for people to choose from.
Thousands of visitors from all over the world who attended its London Show at Alexandra Palace over the Halloween weekend were invited to cast their votes.
The nominees included the original Mini, McLaren F1, Bentley Speed Six and original Range Rover, but it was the famous Jaguar that emerged victorious.
John Edwards, managing director of Jaguar Land Rover Special Operations, was delighted by the result, describing it as a "fantastic accolade" for one of Jaguar's most recognisable models ever built.
He says capturing the most votes in a global public vote is testament to the Jaguar's status as one of the world's most iconic sports cars.
The Jaguar Heritage business is dedicated to supporting customers with classic vehicles and classic car insurance so that models such as the E-Type can continue to be maintained and enjoyed.
The E-Type became an instant hit after it was officially unveiled at the 1961 Geneva Motor Show.
One of the cars on display at the weekend's event was an open-top version of iconic sports car. The 77 RW was driven almost non-stop from Coventry to Geneva by Jaguar's legendary test driver, Norman Dewis, nearly 55 years ago.
The E-Type's style became so popular that it attracted the attention of many well-known fans and VIP owners such as George Best, Steve McQueen, Sir Jackie Stewart, Brigitte Bardot and Frank Sinatra.
James Elliott, Classic & Sports Car magazine group editor, says it is no surprise that the E-Type won the vote because it has it all - the looks to stop traffic even today and a driving experience that has stood the test of time. It is a car that "seduces young and old and is a very worthy winner and rightly the best British car ever".
Copyright Press Association 2015