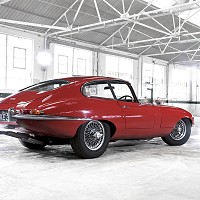 The E-Type Jaguar, already named "the most beautiful car ever made" by Enzo Ferrari, now stands in poll position as the "greatest car of all time" according to a poll of British drivers.
The classic British tourer was ranked top of a list of 100 cars by more than 2,000 motorists in a One Poll survey conducted to mark the return of Wheeler Dealers on the Discovery Channel.
The top 10 was dominated by British classics including the Mini, Aston Martin DB5 and Rolls-Royce Silver Ghost.
Mike Brewer, Wheeler Dealers' car trading expert, said: "This research underlines the incredible heritage of British car manufacturing, where originality, style and performance have been the hallmarks of many of our greatest cars."
Drivers were also asked which car they would now be proud to own after previously considering it embarrassing.
The Ford Capri won this not-so-illustrious title followed by the Morris Minor and Triumph Stag.
According to the presenters of Wheeler Dealers, the victory of the E-Type and its compatriots represents a victory for British motoring.
Copyright Press Association 2014