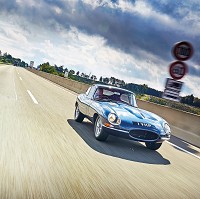 The first ever right-hand drive Jaguar E-Type Fixed Head CoupŽ has clocked 146mph on the German autobahn.
Driven by British Hill Climb Champion David Franklin, the 1961 classic was attempting to match its 150mph record speed.
Franklin believes it would have comfortably reached the target were it not for cars and lorries in the distance, which forced him to back off the accelerator. While the brakes felt strong and progressive, he did not want to take any chances.
The E-Type chassis 860001 was restored in the early 2000s by Shropshire-based Classic Motor Cars Ltd, which again prepared the iconic motor for the recent event in Germany to mark Octane magazine's 150th issue.
Running a car at 150mph is very different from doing so at half that speed, so nothing was left to chance.
New wheels were fitted along with Avon CR6 ZZ tyres. Every mechanical element was checked thoroughly, plus the car's engine was dyno-tested on a rolling road and a higher capacity fuel pump was installed.
But despite the efforts of everyone involved, traffic meant the car was unable to match the record of 150mph set in 1961 in Belgium, when weekly magazine Autocar took an E-Type to the country for a high speed test.
Copyright Press Association 2015