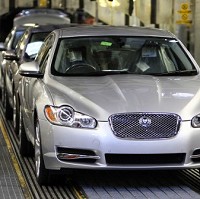 It was like the worst excesses of bad driving from the ITV programme Police Camera Action!
But footage of a snow-caked Jaguar XF with a peephole the size of a small plate to see through was captured by driver Mark Saunders on his way to work.
The Jaguar owner endangered the lives of others on Cambridge Road, between Cosby and Whetstone in Leicestershire on March 25.
Mr Saunders, 31, from Blaby, also in Leicestershire, captured what he described as "sheer lunacy" on an in-car camera.
He had it installed for car insurance purposes after being involved in a collision where blame was disputed.
Mr Saunders said: "I was amazed. They had no visibility apart from a tiny hole they'd made through the snow on the windscreen. It was sheer lunacy."
Ellen Booth, senior campaigns officer, at road safety campaign group Brake, said being able to see the road ahead is one of the most basic requirements of safe driving.
A still image of the car and the footage has been passed to Leicestershire Police, who say it could amount to dangerous driving or worse.
Copyright Press Association 2013