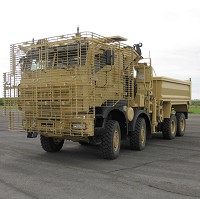 Truck maker IVECO has completed the final stages of a 206-unit order for the Ministry of Defence (MOD), according to company officials.
The Trakker vehicles, which were constructed to a number of varying specifications and intended for different environments and purposes, were produced by the European industrial vehicle maker are intended to withstand all the challenges presented by warzones around the world.
Among other tech specs, the new Trakker trucks will come equipped with a reinforced metal cage around the driver's cab, designed to protect the occupants from RPG and rifle fire.
Like their civilian equivalents, the dumper trucks are equipped with a controllable arm for digging and lifting debris from hard-to reach surfaces.
While the MOD's new vehicles are likely to be protected covering fire rather than insurance cover in warzones, commercial drivers on the UK's roads are reminded that car insurance is a vital part of vehicle ownership.
Copyright Press Association 2012