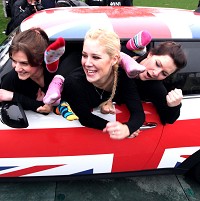 The Mini is so called for a reason, but for 28 women, they were determined to prove otherwise.
A contortionist would have struggled with the world-breaking record, but the women were able to all pile in the classic car in 18 minutes, at the eighth annual Guinness World Records Day.
It is a feat that should not be tried at home, or on the roads for that matter, an overloaded vehicle is likely to end up costing you more in insurance premiums if you cause an accident.
Luckily the gymnasts, from Eastbourne, were stationary and had plenty of practice to scoop the Guinness World Record for Most People Crammed Into A Mini, which was held in London.
Rules stated that all windows and doors had to remain shut for at least five seconds once everyone had their limbs in place inside the Mini.
Their meticulous training paid off and they beat previous record holders who only managed to squash 27 people into the car.
Across the world, the women were joined by more than 400,000 people who were also trying to break a world record at the event, which was held for the eighth year running. Lachlan Phelps, an Australian teenager, kicked-off the celebrations by setting a new record for the Longest Note Held On A Didgeridoo.
Guinness World Records editor-in-chief, Craig Glenday, described the Mini record success as being: "up there with cream-cracker eating and leaving your fingernails untrimmed. And like Guinness World Records, it's a successful child of the 1950s."
Copyright Press Association 2012