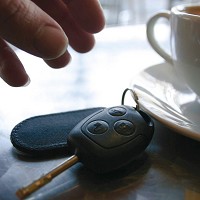 Drivers in the north of the England are the most likely to be affected by car crime, police records show.
The car crime website HonestJohn.co.uk used freedom of information requests and publicly-available records to discover that Manchester is the worst-hit city, with 505 offences per 10,000 vehicles, a much higher rate than the national average in urban areas of 242 per 10,000 vehicles.
Bradford and Leeds in West Yorkshire had rates of 457 and 420 per 10,000 vehicles respectively, while Sheffield (389), Newcastle (318) and Liverpool (287) were also in the top 10 worst cities for car crime.
London's rate of 443 crimes per 10,000 vehicles made it the only city in the South on the list.
The data is particularly revealing as it is the first poll to use actual police force records, according to HonestJohn.co.uk editor Daniel Harrison.
He said the results show a real North-South divide in car crime figures.
Mr Harrison said drivers in the worst hit areas should act to protect their cars and add more security features but it will also help new drivers and first-time buyers know the kind of car insurance premiums they should expect to pay.
Copyright Press Association 2013