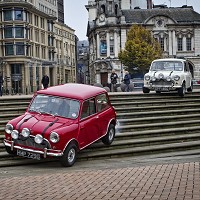 The 1969 film 'The Italian Job' is to be shown at Birmingham's oldest working cinema ahead of the Footman James Classic Motor Show later this month.
The film, where Michael Caine shows no regard for his car insurance policy when pulling off a gold bullion heist using iconic British Mini's on the streets of Turin, has recently been named as the nation's Favourite Classic Motoring Movie, while also being recognised as having the Best Classic Car Chase in a movie.
Motoring enthusiasts and cinema buffs alike will get to see the one-off screening at The Electric Cinema on Birmingham's Station Street from 3pm on Saturday 10 November, before the three-day Footman James Classic Motor Show gets underway at the NEC on Friday 16 November.
More than 50,000 motoring fans are expected to pass through the doors of the NEC over the weekend, with an estimated 1,500 and 350 motorbikes on display across 11 separate halls.
The annual event is the largest indoor motoring exhibition of its kind in Britain and features a variety of vehicles, such as pre-war and retro classics, and luxury supercars.
Copyright Press Association 2012