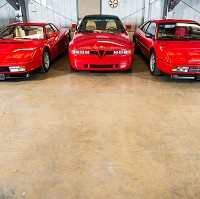 A trio of low-mileage, rare Italian supercars are set to go under the hammer early next year.
The star of the Silverstone Auctions sale is likely to be a red 1991 Ferrari Testarossa which has less than 1,000 miles on the clock.
It is said to be in near-perfect condition and will come complete with the Cartier watch and luggage set it was originally sold with.
Experts believe the Testarossa will sell for up to £150,000 when bids open at the auction in Warwickshire.
Meanwhile, another 24-year-old Ferrari - a four-seat Mondial T with only 1,180 miles on its clock - is expected to fetch up to £70,000 at Silverstone Auctions' two-day Race Retro event that begins on February 21.
A third 1991 car - a red Alfa Romeo SZ - has been driven even less and could also sell for as much as £70,000, it is being predicted. Despite having a 3.0-litre V6 engine under its iconic shell the car has just 502 miles registered on its clock.
Copyright Press Association 2014