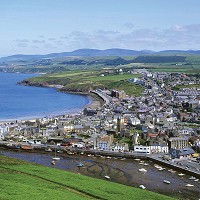 The Isle of Man is bidding to become the first self-driving island in the world.
Phil Gawne, its transportation minister, has said he is trying to lure manufacturers of fully autonomous cars - those without a steering wheel or pedals - to the island in the Irish Sea.
Discussions between the government and a number of companies have already taken place.
The island's autonomy means it has the power to make changes to local legislation which could speed up the process, and Mr Gawne says law changes could be in effect by early summer.
He hopes the prospect of a scale trial of driverless vehicles on working roads will be enough to convince manufacturers.
David Alexander, an analyst at Navigant Research, which provides in-depth analysis of global clean technology markets, claims testing on an island may be an attractive proposition to companies because things can be tried on an island that may not be practical in a city.
He adds small island nations generally cannot afford new transit systems on their own, so a big company willing to invest in the local infrastructure will more than likely find a willing government.
Copyright Press Association 2016. Motoring News articles do not reflect the RAC's views unless clearly stated.