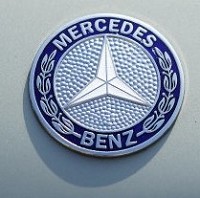 Never can the coveted Mercedes badge have been less wanted.
A high-class marque vehicle has been left abandoned in a Birmingham multi-storey car park for over two years with a broken axle.
And the Merc's owner would be liable to pay more than £9,000 in parking fees as the Apcoa Parking's Ladywood facility charges £13 a day.
But the parking company claims that it cannot locate the saloon's owner after trying to write to them without reply. The vehicle is also not on a list of reported stolen vehicles.
Apcoa is more concerned with removing the car than pursuing any parking charges owing.
An Apcoa spokesman said that it is likely the Merc's owner considers it more trouble than it is worth for them to remove it.
The firm is now waiting for Birmingham's local authority to take away the vehicle.
Copyright Press Association 2014