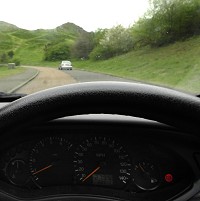 Interactive car windscreens that allow drivers to take calls, view weather warnings and follow on-screen navigation arrows have been previewed at the Geneva Motor Show.
The head up display system (HUD), which would have been seen as something from Star Trek only a few years ago, can also provide motorists with handy warnings of disruptions and show the speed and distance to the car in front.
Harman, the tech firm behind the screens, has stressed that although the screens will deliver a lot of information they will do so safely.
There might be fears that giving motorists too much to look at could distract them and cause car insurance premiums to go up as a result, but conversely if drivers are constantly presented with weather and traffic updates it could help keep the roads safer.
Hans Roth, Harman's director of technology marketing, described how the seamless presentation of the information will make sure it is never distracting or dangerous.
He demonstrated how drivers can reject calls with a wave of their hand and silence phone calls if necessary.
Some luxury cars already have HUD technology and Mr Roth said the firm is working with various car manufacturers to include these features on forthcoming vehicles.
Copyright Press Association 2013