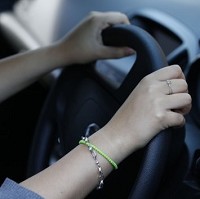 A new steering wheel that doubles up as a virtual doctor has won its designer a prestigious prize.
Nicole Agba's "Steer Right" intelligent wheel can measure drivers' alcohol levels, breathing patterns and heart rate.
The device automatically cuts out the vehicle when it detects excess alcohol in the driver's bloodstream by calculating chemicals in their sweat, hopefully one day preventing many drink-drive related accidents each year.
Ms Agba, 23, a graduate from Coventry University living in Kent, became the first woman to scoop the Autocar-Courland Next Generation Award.
The prize includes £7,500 and five months' work experience with award sponsor car manufacturers such as Skoda, Toyota and Peugeot among others.
Her biometric wheel features small sensors lacing its perimeter which record biological indicators such as pulse and respiration rates. These can indicate if a motorist has health problems or is too tired to drive.
Copyright Press Association 2014