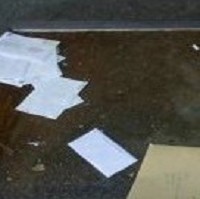 The two-millionth letter warning drivers about changes to insurance has been sent out this month.
The alterations, which were launched in 2011, necessitate a vehicle's registered keeper to always have car insurance .
The only exception is a motorist who has declared their car off road through a SORN notification to Swansea's DVLA.
Previously, drivers could keep non-insured vehicles that they did not drive off road without actually declaring them.
The new law was passed to combat uninsured motoring.
This is because untraced and uninsured motorists account for 130 road deaths annually as well as injuring 26,500 people, driving up our premiums in the process.
One in three drivers who have received the warning letters from the Motor Insurers' Bureau (MIB) have received fixed penalty notices of £100.
They also risk having their car seized, clamped or even destroyed. They can also be subject to being taken to court and fined a maximum of £1,000.
Most motorists (90%) comply with the rules after getting this letter. But 6,000 drivers who ignore them are still prosecuted every month.
Copyright Press Association 2014