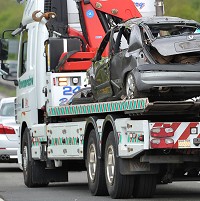 Insurance companies have been given a stark warning to "get their house in order" in an MPs' report urging them to end practices said to encourage fraud and exaggeration in whiplash injury cases.
The report from the House of Commons Transport Committee suggested ministers should consider reducing the limitation period for road accident car insurance claims and should also require whiplash claimants to produce more supporting evidence.
However, the report stressed that genuine claimants should not be demonised, and that the general perception that the UK is the "whiplash capital of the world" could not be proved or disproved.
The report also warned that access to justice could be impaired by Government proposals to switch whiplash claims between £1,000 and £5,000 to the small claims court, particularly for people who do not feel confident to represent themselves against insurers who will use legal professionals to contest claims.
The use of the small claims track could also prove counterproductive in efforts to discourage fraudulent and exaggerated claims as expert evidence is not generally submitted.
MPs said in the report: "We were surprised to hear that insurers will sometimes make an offer to personal injury claimants even before a medical report has been received.
"We also note that our previous recommendation on making the links between insurers and other parties involved with claims more transparent has been ignored."
Copyright Press Association 2013