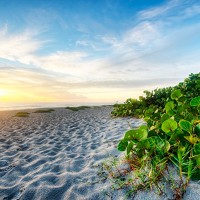 British holidaymakers who rent cars abroad could face huge bills if they don't take out extra insurance, experts have warned.
Post Office Travel Money said tourists who fail to take out excess waiver insurance (EWI) when hiring a vehicle face massive charges if they have an accident.
EWI is a reimbursement insurance which means that when a policyholder is charged by a vehicle hire firm for the excess payable if their hire car is stolen or damaged they can seek reimbursement from the car hire insurer.
This is one reason that Britons renting cars overseas will enjoy Florida, says a Post Office Travel Money survey.
America's "Sunshine State" doesn't charge for this car insurance .
Florida provided easily the best value for those wanting weekly car hire at £164.69, including extras, an additional driver plus 40 litres of petrol, with Bulgaria (£242.09) the next cheapest destination, followed by Malta (£255.49).
Cyprus was the costliest at £362.29.
The study also showed how much drivers would have to pay in the event of an accident or theft if EWI had not been paid.
The most expensive country was Ireland (£1,186) and Turkey (£400) the cheapest, after no-charge Florida.
Copyright © Press Association 2013