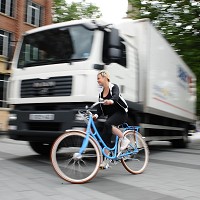 A cyclist who suffered devastating injuries has called for urgent action to improve road safety.
Graham Andrews has to use a wheelchair after a hit-and-run driver threw him 8ft into the air, leaving him with spinal damage.
The 45-year-old former engineer was riding to the beach on a Sunday evening when the accident happened back in March 2008. He was found by passers-by two hours later, lying 15ft away from his bike, on a grass verge.
The driver, who hit Mr Andrews from behind in the incident in Rustington, West Sussex, has never been traced.
Father-of-three Mr Andrews is issuing an appeal for improved protection for cyclists after a spate of road deaths last year. More than a dozen cyclists were killed on London's roads alone.
"More needs to be done to make the roads safe. On the one hand we are being encouraged to cycle more and leave the cars at home. But on the other hand, when cyclists are being seriously injured or killed as often as they are at the moment, it puts people off, and measures need to be put in place to reassure cyclists that their safety is being considered," said Mr Andrews, of East Preston.
Copyright Press Association 2014