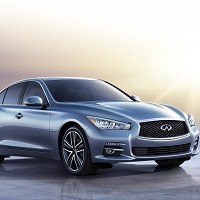 After its presentation at the Geneva Motor Show in March, the new Infiniti Q50 will appear at the Infiniti Centre Reading this month, giving UK motorists a sneak-peak of the car five months in advance of its official launch date.
Infiniti Centre manager James Lotinga said: "The Q50 is the first Infiniti vehicle that has been produced with the European market in mind and as such allows us to appeal to a much wider audience than we have ever been able to before."
With its 2.2-litre four cylinder diesel engine with low CO2 emissions of under 115g/km, the car has been created to meet the expectations of both individual motorists and firms. It combines fuel efficiency of over 65mpg with excellent drivability, with 170 PS of power and 400Nm of torque. The highly efficient engine brings low tax and road costs and is priced from £27,350.
The other high-tech engine to choose from is a petrol V6 hybrid. It offers even better performance with the power to reach speeds from 0-62mph in under 5.5 seconds. Its CO2 emissions of below 145g/km and estimated fuel economy of 45mpg will still mean minimal taxes. This engine is also offered as a four wheel drive.
The Infiniti Q50 is available to pre-order for Autumn. It is being showed at the Infiniti Centre Reading from 16-18 April.
Copyright Press Association 2013