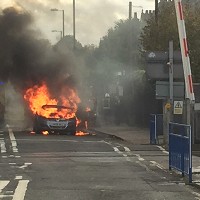 Cases of Vauxhall Zafiras catching fire are becoming more common, according to a fire brigade.
The London Fire Brigade (LFB) reveals it has attended 71 such fires - not including arson attacks - since 2013. This is compared to just 38 in the previous four years, as concerns grow among owners of the vehicles.
Vauxhall is currently in the process of writing to 220,000 Zafira B owners about the issue, urging them to arrange for their car's heating and ventilation system to be inspected by a local dealer.
The British manufacturer says the cause of the fires is improper repair of the heater fan resistor's thermal fuse.
Sue Freemantle, who is leading an online campaign for concerned motorists across the UK, describes the LFB figures as "shocking".
She has received reports of more than 200 Zafira fires in total, with 21 fires in October alone.
She believes Vauxhall is withholding important information from owners, and is calling for every Zafira to be taken off the road until the root cause is identified.
Motoring News articles do not reflect the RAC's views unless clearly stated.
Copyright Press Association 2015