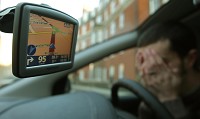 New research shows that "in-car distractions" divert the attention of nearly four in 10 drivers in the UK, especially younger motorists.
The RAC Report on Motoring found that while 39% of drivers in the UK admitted to being "seriously distracted" while driving, over half (55%) of drivers aged 17-24 reported the same.
A quarter of this age group admitted texting while at the wheel, but only 3% thought it was acceptable behaviour, and 16% said they had put on make-up while driving.
Changing the CD or music controls were most likely to distract 57% of drivers, sat-nav systems came second at 41% and mobile phones (32%) or air conditioning controls (31%) were rated third.
More than a fifth of drivers (21%) took their eyes off the road due to warning lights on their dashboard.
The survey found that South West drivers were most likely to lose concentration, (45%) while Yorkshire drivers were the least likely (32%).
At 55%, Londoners said they were most likely to be distracted by their mobile phone, but only 22% Scots said the same.
David Bizley, the RAC's technical director, said: "This clearly shows that in-car distractions continue to be a significant road safety issue, especially for the new generation of drivers."
Copyright © Press Association 2009