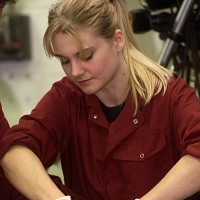 The motoring sector will fail to attract the number of new apprentices it needs unless massive pay rises are awarded, a trade body will officially warn this week.
The Institute of the Motor Industry (IMI) is to call for a 73% hourly pay rise - from £2.73 to £4.73.
The IMI's CEO, Steven Nash, speaking before his speech at the body's annual London dinner this Thursday, says the industry will have to take unilateral action. This is because the Government will not, he said.
Mr Nash predicts the car apprenticeship pool will soon be "dramatically" downsized. He blames this on two things. One: youngsters do not have the same contact with careers advisors as they once did to nudge them towards vocational routes.
Two: the UK education network is biased towards keeping pupils at school until the age of 18, steering them towards university instead.
Car apprentice supply could not meet demand while the trade pays the legal £2.73 minimum hourly salary, he added.
Mr Nash said that drastically raising wages would be cost-effective because bosses would still rake back far more than any investment outlay.
Copyright Press Association 2015