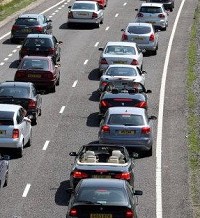 Police cameras in Sussex recorded images of more than 233 million vehicle number plates in 2008.
The figures, obtained under the Freedom of Information Act, show a fivefold increase over 2007, when just over 44,500,000 vehicles were photographed on the county's roads.
Of the latest figures, more than six million were "vehicles of interest" - number plates ranging from those with no insurance to ones linked to known criminals.
However, Conservative MP for Wealden in East Sussex, Charles Hendry called for a middle path between citizens' privacy and information gathering.
He said: "My concern is that there needs to be a balance between what is necessary for the police and the rights of the individual to go about their every-day business without being snooped upon."
Police forces use automatic number plate recognition (ANPR) systems which can be placed in a mobile unit or at a fixed site, to record images of vehicles.
The system allows cross-referencing of data with other databases including that of the Police National Computer (PNC), DVLA and alerts police to vehicles of interest.
Acting Chief Inspector Steve Grace, of Sussex Police's road policing unit, said: "ANPR is becoming a very valuable tool for us in fighting crime and identifying criminals on the roads."
Copyright © Press Association 2009