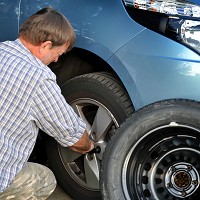 The problem of illegal tyres on cars is worryingly widespread and many motorists do not take the problem seriously, it is claimed.
"Not only is there still a high level of ignorance about tyre care, but perhaps even more alarming is that many motorists continue to drive on tyres that they know are illegal or dangerous," said TyreSafe chairman Stuart Jackson.
He was speaking after new figures were released by the Ministry of Justice showing 9,639 people were successfully convicted at a Magistrates court in England and Wales in 2011 for driving with dangerous or defective tyres.
Drivers who are keen to reduce the risks of the road and keep theircar insurance premiums down are advised to keep an eye on the condition of their tyres.
Under UK law motorists are required to drive with a minimum of 1.6mm tread depth across the central three quarters of the tyre, around its entire circumference, and face a fine of up to £2,500 and three penalty points for each illegal tyre should they fail to comply.
Copyright Press Association 2012