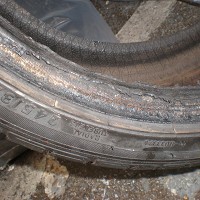 A man who sold dangerous part-worn tyres to the public is facing prison time and a heavy fine.
Luke McKenzie, trading as Moss Tyres in Grantham, Lincolnshire, supplied a number of tyres with serious defects and accident damage to unware customers - including families - putting their lives in danger.
A jury at Lincoln Crown Court unanimously found him guilty on 16 counts of being in possession to supply dangerous products, one count of supplying the wrong size of tyre and one count of lying about tyres having been balanced.
He is facing up to 12 months behind bars and a fine of £20,000. Industry bodies and charities have welcomed the verdict.
The National Tyre Distributors Association is delighted the court took the matter so seriously and acted accordingly, while TyreSafe hailed the fact that offenders are being prosecuted to the full extent of the law.
Mr McKenzie was caught following a Trading Standards investigation.
Copyright Press Association 2015