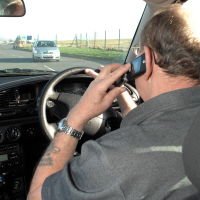 Motorists who break the law by using a hand-held mobile phone while driving are almost doubling their chances of having an accident, new research suggests.
The analysis of driving data collected from more than 4,000 motorists indicates that those using legal hands-free phones also have an increased accident risk.
The Royal Society for the Prevention of Accidents (RoSPA) says the study highlights the dangers of drivers using a phone while behind the wheel.
The analysis, carried out by telematics provider Wunelli, suggests the typical driver brakes hard enough to send a handbag flying to the floor once every 50 miles.
But among those using hand-held mobiles the number of hard-braking events increases by 75%, the analysis shows. Those using hands-free phones, meanwhile, have to brake hard 20% more often than the average driver.
The study also suggests that male drivers are twice as likely as female ones to illegally use a phone while driving.
And motorists aged between 25 and 35 are more likely than those in any other age group to break the law, the analysis indicates.
Wunelli says its analysis shows that drivers using their phones typically cut their speed by a third, suggesting that they are being distracted.
RoSPA's head of road safety, Kevin Clinton, says motorists who use either type of phone while driving are less aware of things happening around them and slower to react to events on the road.
That, he adds, significantly raises the chances of someone having an accident, something that could result in an innocent road user being killed or injured.
RoSPA is calling on motorists to switch off their phones while driving and to only return calls and texts once they have stopped in a safe place.
Copyright Press Association 2016. Motoring News articles do not reflect the RAC's views unless clearly stated.