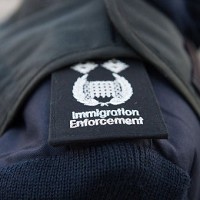 Drivers identified as illegal immigrants could face a six-month prison sentence under a new Government crackdown.
They also face unlimited fines and having their vehicle seized under the Immigration Bill.
The new crime will be called "driving while unlawfully in the UK", with immigration enforcement staff empowered to search suspects and their homes. They will also be able to seize their driving licences.
Thursday's Bill is aimed at reducing the perceived incentives for coming to the UK illegally. It had earlier been announced that illegal immigrants may get their pay packets confiscated if they are caught working here.
The Government has recently come under mounting pressure over its management of the Calais crisis.
Last month official new data found that net migration has hit an all-time high. This has been seen as a shattering blow to Prime Minister David Cameron's hope of reducing numbers.
Parts of the Bill have already been released. These measures include the prospect of landlords who do not take immediate action to evict illegal immigrants facing jail.
Off-licence and late-night takeaways which are found to give work to illegal immigrants could be forced to close. Banks could also be compelled to research current accounts to see if they include customers on existing migrant databases.
James Brokenshire the Immigration Minister says the message is not open to interpretation. People who have no lawful right to live and work in the UK should not get the country's same day-to-day services and benefits enjoyed by legal immigrants and hard-working British households, he said.
The Minister says the new Bill will assist the Government to take the toughest steps yet against migrant lawbreakers.
He says this applies across the board, whether they are tenants, bank account holders, motorists or employees.
Copyright Press Association 2015