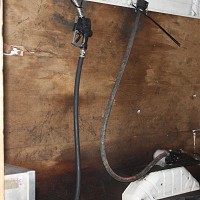 A raid by customs officers has shut down a "dangerous" fuel production plant with the capacity to make more than 240,000 illicit litres a year.
HM Revenue and Customs (HMRC) estimates that if sold legally, such a quantity of fuel would make £120,000 in tax.
The culprits running the operation on an industrial estate in Tilbury, Essex, were trying to clean contaminated fuel using chemicals and acids and sell it back to motorists from the back of a van.
Such additives could damage pumps if they remain in the fuel and lead to abreakdowns in the future.
HMRC spokesperson Clare Merrills said the organisation takes illegal and dangerous storing and selling of contaminated fuel very seriously.
She added that the chemicals and fuels at the site were unsafe and the dangers showed "a total disregard for public safety."
Copyright Press Association 2012