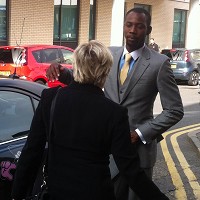 Former British Olympic athlete Phillips Idowu has been disqualified from driving for two years for getting behind the wheel while two and a half times the legal alcohol limit.
The 34-year-old triple jumper admitted drink-driving on September 20 this year. The police revealed they were called to a domestic incident at his home in Epping, Essex, and found him driving his white Land Rover in Bridge Hill.
Idowu's solicitor, Joe Life, told Chelmsford Magistrates' Court he had been out drinking with friends the previous night and returned to his home to go to bed. He left the house in a hurry to drive a short distance to a hotel to get away, Ms Life said, adding Idowu didn't want to explain exactly what happened in the house.
The court was told Idowu co-operated with the police. Unemployed Idowu has no income and is living off his savings. He asked to be fined instead of receiving community service as he has a job opportunity overseas in November.
However, magistrate Jeremy Bachelor ignored the request and told Idowu he had to do 50 hours of unpaid work in the next 12 months. As well as the driving ban, Idowu must also pay a £145 fine and £85 in costs.
Copyright Press Association 2013