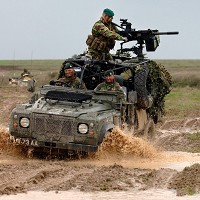 A former SAS sergeant has hailed the role of the Land Rover Defender in the Armed Forces.
Andy McNab, now a successful author, says the iconic 4x4 has been synonymous with the military since production began 68 years ago.
He claims it acts as a "huge weapons platform", just like the Humvee does in the US Army.
But McNab, who wrote Bravo Two Zero, describes the Defender as quicker and more manoeuvrable than its American counterpart.
The last Defender recently rolled off the production line at Jaguar Land Rover's plant in Solihull.
Reports suggest the company decided to call time on the icon because of difficulties in meeting modern safety and emissions standards.
But it is not the end of the story. A heritage restoration programme has been launched to restore a number of early Defenders, with the first ones going on sale in July.
The scheme will also ensure spare parts are made available so existing owners can keep their cars on the road.
McNab bought his own Defender at the end of last year after learning that no more would be made - one of more than two million produced since 1948.
Copyright Press Association 2016. Motoring News articles do not reflect the RAC's views unless clearly stated.