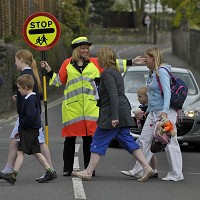 Top driving tips centred around concentration on the roads as the new school term begins have been offered by a road safety charity.
The chief examiner of the Institute of Advanced Motorists (IAM) said motorists need to be extra vigilant with children heading back to school after their summer break.
Peter Rodger said the school run causes a 20% rise in rush hour traffic and a little preparation can help enormously in making it safer and less stressful.
He mentions that being in a hurry will compromise both your concentration and the safety of others, so leave home five minutes earlier and this will change the nature of your trip.
Caution means less of a chance of an accident and, apart from preventing injury and grief, it may benefit your car insurance premium.
Youngsters will not always pay attention, particularly when approaching the school gate, so this is always something to be wary of.
Avoid stopping on the yellow zig zag signs next to the school gate and let passengers out on the pavement side of the car.
Perhaps organise a car pool; it will certainly make for fewer vehicles around the school gates.
Keep within the 20mph limits around the schools and watch out for youngsters crossing the road and coming out from between parked cars.
New pupils in reception class are unlikely to understand the road dangers so look out for lone youngsters wandering into the road.
Above all, ensure that if your children are themselves walking to school, they know of the hazards like crossing busy roads and urge them to make use of pedestrian crossings.
Copyright Press Association 2013