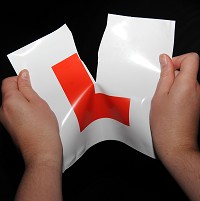 With International Youth Day coming up next week, Britain's top advanced driver, Peter Rodger has offered some road safety tips to young drivers via the IAM.
One of the most pressing tasks facing young drivers is arranging affordablecar insurance . Young drivers should at least also consider having a telematics box fitted or undertaking further driver training, in order to help push premiums down.
Although young drivers will have learnt how to carry out basic safety checks on their vehicle during their training - such as checking tyre and tread pressures, fluid levels, lights, mirrors and windows - it is important that these checks are carried out regularly to avoid breakdowns and unnecessary costs.
Another safety aspect to be aware of is the concentration level required when young drivers inevitably taxi groups of friends around. Young passengers can often be a dangerous distraction.
Driving on motorways for the first time can be a daunting prospect for a young driver, but statistically motorways are the country's safest roads, and standard driver training provides the skills needed to use them safely.
Ultimately, IAM chief examiner Peter Rodger warns that young drivers still have a lot of development to do after they pass their test, as driving skill and knowledge comes with experience.
But he adds that further training will help with this, while also bringing down insurance premiums.
Copyright Press Association 2013