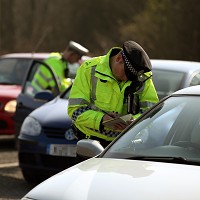 More needs to be done to address major road offences and protect drivers.
That is the view of the Institute of Advanced Motorists (IAM), which is calling on the new government to step up its efforts in promoting road safety by giving targeted enforcement a higher priority.
Thousands of people were killed or seriously injured on UK roads in 2013 - and there are fears that the yet-to-be-revealed figures for the year just gone will reveal an increase in total fatalities and injuries.
The road safety charity claims road traffic policing must become a core priority function for police forces and commissioners in England and Wales if fatal and serious accident numbers are to come down.
But it is not alone. A survey that it conducted in April highlights strong public support for targeted enforcement.
Of the 2,703 people that were polled, over 45% voted for an increase in the number of police officers in marked vehicles to enforce traffic laws.
Mobile phone use at the wheel was the top offence that road users would like to see police officers clamp down on, with 72% of respondents listing it as their number one priority.
A further 65% said drink and drug driving, 50% said aggressive and angry drivers, and 42% said tailgating drivers.
Tackling speed related offences also remains a major priority for drivers - and 64% of respondents believe one of the best ways to confront the issue is by ensuring that there are more traffic police officers on all major urban roads.
Over 3,064 motorists were killed or seriously injured in 2013 as a result of speeding.
When it comes to drink-driving, 44% of respondents agree that a new consultation is needed to reflect the growing support for a lower limit after Scotland cut its drink-drive limit from 80mg to 50mg.
There is also growing support for police officers to be granted more extensive powers.
Some 45% of respondents back more discretion to carry out breath tests based on where drivers are likely to be driving after drinking - near pubs and clubs, for example - which could help combat drink-driving.
Copyright Press Association 2015